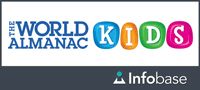 World Almanac for Kids VIDEO INTERACTIVE - Resources for homework, reports, and projects in a fun format from a trusted source; written for students in 4th - 8th grade. Covers many social studies topics, including American history, world history, government, geography, holidays & celebrations, and more. If you're using this resource at home, you'll have to enter your library card barcode to begin.
For sites addressing current events and issues,
see our CURRENT EVENTS, ISSUES & CONTROVERSIES page
All About America - A collection of materials exploring diverse aspects of U.S. life and culture, designed for an international audience and for immigrants. Explore by topic from the drop-down menu, and/or filter by Books, Magazines, Pamphlets, or Posters. (U.S. State Department)
Annenberg Classroom VIDEO INTERACTIVE - Resources on constitutional concepts and Supreme Court cases, including videos, games, lesson plans and timelines as well as the Annenberg Guide to the Constitution, which provides the original text and then explains it in plain language. For middle and high school students & teachers (Annenberg Public Policy Center).
Anthropology VIDEO INTERACTIVE - Fun activities, videos, games, and stories to help you learn about anthropology, 'the study of people everywhere - today, yesterday, and long ago.' There is a related page on Archaeology VIDEO INTERACTIVE, 'the study of past life through what's been left behind.' Elementary school and up. (American Museum of Natural History). Perspectives: An Open Invitation to Cultural Anthropology is a free peer-reviewed textbook for cultural anthropology courses. You can download individual chapters in PDF, or the entire text in PDF or EPUB format; for college or advanced high school students (2021, Society for Anthropology in Community Colleges).
Criminal Justice: Life Inside - A weekly series of first-person essays from people who live or work in the criminal justice system (2022, Marshall Project; nonprofit organization). Criminal Justice Facts offers data on International Rates of Incarceration, U.S. State and Federal Prison Population, Facts About Prisons & People in Prison, and related information and analysis; high school and up (2022, The Sentencing Project; non-profit organization).
Critical Thinking Web - Online tutorials, quiz, and other materials will help you understand what critical thinking is, why it is important, and how to develop your critical thinking skills (2004 - 2020; by Dr. Joe Lau and Dr. Jonathan Chan, University of Hong Kong). See also Logical Fallacies (Dr. Steven Novella et al., SGU Productions, LLC; site includes advertisements) and Fake News & Fact Check links. High school and up.
Debating Matters - Topic guides and related resources for student debaters (Battle of Ideas charity, UK). See also Debate Training Guide NEW [Link opens a PDF] (National Speech & Debate Association), Hot Topics and other resources on our Current Events, Issues & Controversies page, and Fake News & Fact Check links. For more debating help, you can log in with your library card barcode number to World Almanac for Kids: Take a Stand VIDEO (grades 4 - 8; includes debate prep advice plus pros & cons on more than a dozen topics) and EBSCO Points of View Reference Center (high school and up; includes info on the annual National High School Debate Topic); library barcode required to log in outside the library.
Economics: Cyber Economics - 'A complete, online textbook for introductory economics. CyberEconomics is an easy-to-read approach to economics with a variety of interactive problems and questions.' For college or advanced high school students (1998 - 2013; by Robert Schenk, Professor Emeritus of Economics at Saint Joseph's College; site includes advertisements). See also Consumer Education & Money Management.
Edsitement - Links to lesson plans, teacher's guides, and student activities in History & Social Studies, Art & Culture, and Literature & Language Arts for K-12 (National Endowment for the Humanities).
Ethics: Applied Ethics VIDEO - Online resources (articles, cases, and links) examining ethical issues in a variety of situations and settings, including business, campus, government, environment, law, media, technology, and others. High school and up (2015, Santa Clara University). Ethics Unwrapped VIDEO is a collection of short videos and related learning materials on 'the science of everyday ethics - made easy, useful, and fun' (University of Texas; videos hosted on YouTube, site includes advertisements). Daily Dilemma offers true case studies exploring ethics & integrity, geared toward adolescents and youth educators (by Charis Denison of Prajna Consulting). See also Philosophy. Younger kids, see 4 Ethical Dilemmas; part of Philosophy Toolkit, a searchable index of philosophical lesson plans (University of Washington).
Fake News - See Fake News and Fact Check links.
Frontline VIDEO - Online documentaries and related background materials explore and illuminate 'the tough, controversial, and complex issues that shape our times.' Also includes podcasts AUDIO. High school and up. (WGBH / PBS; site includes advertisements).
Food: Our Global Kitchen [Click on the MORE IN OUR GLOBAL KITCHEN: FOOD, NATURE, CULTURE menu icon to navigate] - An overview of the production, trade, preparation, and consumption of food around the world - past, present, and future. Middle school and up (2012, American Museum of Natural History). Ag Classroom offers resources to help improve agricultural awareness, knowledge, and appreciation among PreK-12 teachers and their students (Utah State University). FoodPrint (formerly Sustainable Table) examines the impacts of industrial food production and explains the benefits of more sustainable food production and consumption. Includes tips to help you make food choices that do less harm to the environment, animals and people (GRACE Communications Foundation, Global Resource Action Center for the Environment). See Harvest Public Media for the latest reports on food systems, agriculture and rural issues throughout the U.S. Midwest and Plains (KOSU 91.7 KOSU in central Oklahoma, et al. Harvest Public Media reports on KOSU are sponsored by Oklahoma Pork Council and Oklahoma Farm Bureau). For lesson plans & related material about food, see Foodspan: Teaching the Food System from Farm to Fork (Johns Hopkins Center for a Livable Future). The Big Food VIDEO video explores our evolutionary history, our complex food environment, and the serious health consequences of obesity; high school and up (2012, Yale Peabody Museum of Natural History et al. Video hosted on YouTube). For more on the history of food and agriculture, see our History: Food & Farming links.
Geography: Classroom Activities - These learning activities can take students on a data-driven, cross-country scavenger hunt or engage them in the discovery of census data that highlights geography's impact on communities and lives. Corresponding teachers' guides are available for each activity; for grades K - 12 (U.S. Census Bureau). For more on using statistical data, see Statistics links.
Globalization - A brief overview of globalization from ancient times to the present (National Geographic). See also Antiglobalization.
Good Manners [Archived page] - Basic lessons explain the reasons for practicing good manners, and teach you what good manners look like at home, at school, at the table, on the phone, etc. There are related pages on Conflict Resolution for kids, Friendship for kids & Making Friends [Archived pages]; for elementary and middle school students. (2015, Children, Youth & Women's Health Service, Government of South Australia).
Greater Good Science Center - An interdisciplinary research center devoted to the scientific understanding of happy and compassionate individuals, strong social bonds, and altruistic behavior. Includes an online magazine. High school and up. (University of California)
Happiness: World Happiness Reports - Annual reports on how people evaluate their own lives in more than 150 countries worldwide (2012 - 2022, Sustainable Development Solutions Network, powered by Gallup World Poll data).
High School Journalism - See School Journalism, below.
Hot Topics - See Debating Matters and related links, above.
Labor - See Work & Workers, below.
Landmark Supreme Court Cases - Summaries, excerpts, and analyses of some major U.S. Supreme Court cases such as Dred Scott, Miranda, and Brown v. Board of Education. Includes interactive activities. High school and up (Street Law and Supreme Court Historical Society). See also Landmark Cases links.
Media Smarts: Digital & Media Literacy [Archived page] - Resources for examining issues such as body image, diversity, violence, consumerism, gender roles, cyberbullying, marketing, privacy, video games, and much more. For K-12 students, parents, and teachers; ; some of the information presented is specific to Canada (2010 - 2017, MediaSmarts Canada). See also Fake News & Fact Check links.
Multimedia Reporting - See School Journalism, below.
National Geographic Education Resources UPDATED LINK - Covers a wide range of topics in geography and related subjects. You can search by keyword, and filter resources by subject & grade level, pre-K through college. You can also use the filter to access other types of resources such as activities, infographics, lessons, maps, photos, and videos. There is also a podcast series, Overheard at National Geographic AUDIO (National Geographic Society; sites include advertisements)
News - See CURRENT EVENTS, ISSUES & CONTROVERSIES, including News, Fake News and Fact Check links.
Newseum Digital Classroom [NOTE: Free registration required for full access] VIDEO - 'Primary sources, interactives, videos and lesson plans bring history, journalism and the First Amendment to life for students.' Features interactive timelines, archival videos and downloadable historic front pages, with lesson plans for middle, high school and college teachers and students (Newseum news museum, Washington, D.C.).
Nuclear Weapons - Brief facts about nuclear weapons: their history, current numbers, and consequences (International Physicians for the Prevention of Nuclear War; non-profit organization). For additional history, see Atomic Archive and related links.
Peace Corps Stories - 'A window on what it's like to serve in the Peace Corps.' Includes blog posts by current & returned volunteers, staff, and thought leaders in international development. Searchable by country or keyword. (Peace Corps)
Pew Research Center NEW - A nonpartisan 'fact tank' studying issues, attitudes and trends shaping the world. Research reports and short reads cover a wide range of topics including politics, news media, internet & technology, religion, gender, race & ethnicity, international affairs, social & economic trends, science, immigration & migration, and more.
Philosophy: Encyclopedia of Philosophy - In-depth articles on philosophy and philosophers, arranged A to Z. High school and up (Edward N. Zalta, Stanford University, et al.). See also Internet Encyclopedia of Philosophy (edited by Professor James Fieser, University of Tennessee, Professor Bradley Dowden, California State University, et al.). For general background on the philosophy of different periods, see The Sophia Project UPDATED LINK [Archived page]; includes original articles, primary source texts, and commentaries. High school and up (Michael S. Russo, Ph.D., Managing Editor). Encyclopedia of Concise Concepts by Women Philosophers examines philosophic concepts as they were developed by women from antiquity through the turn of the 21st century; high school and up (Dr. Ruth Hagengruber, Paderborn University of Germany, et al.). See also Ethics.
Photographs of Social Issues - See Social Issues Photographs.
Poverty in Focus VIDEO - A collection of interviews with low-income people in New Jersey. It shows the daily struggles faced by low-income people, and puts a human face to the issue of poverty (2015 - 2018, Legal Services of New Jersey). Marketplace: Poverty, Marketplace: Wealth, & Marketplace: Economic Inequality are segments from an ongoing radio show focusing on political, educational, social, and economic aspects of wealth and poverty (Minnesota Public Radio). Inequality.org: Facts NEW provides basic facts about inequality; the website also offers research & commentary, and related resources (a project of the Institute for Policy Studies; non-profit organization). See also Work & Workers, below.
Psychology: An Introduction - An online college-level psychology textbook (2017 - 2018, by Dr. Russell A. Dewey, Georgia Southern University; site includes advertisements). Psychology Dictionary & Glossary for students offers definitions of terms, concepts and theories related to psychology and mental health; high school and up (2005 - 2016; ITS Tutorial School, Hong Kong). Social Psychology Network offers thousands of links related to psychology (browseable by topic), plus the latest 'Psychology Headlines From Around the World.' High school and up (Dr. Scott Plous, Wesleyan University). Topic Resources: Social Psychology AUDIO VIDEO links to articles & other resources on topics such as aggression, altruism, relationships, conflict, gender, prejudice, the self, and more; high school and up (2000 - 2020; created by Jon Mueller, Professor of Psychology at North Central College, Naperville, IL).
Public Agenda - Reports on current issues such as education, health care, democracy, inequality, and others. (2016 - 2023; a non-partisan public opinion research and education group)
Reality Check - See Fake News and Fact Check links.
School Journalism - See TeenZone: NEWS links. For helpful tips on finding fresh story ideas, see Story Ideas (2022, SchoolJournalism.org). The Student Press Law Center AUDIO has useful legal information and news for student journalists (non-profit organization). Undercover Reporting (formerly Deception for Journalism's Sake) 'collects many decades of high-impact, sometimes controversial, mostly U.S.-generated journalism that used undercover techniques.' Covers themes such as prison infiltrations, slavery, poverty, migrant workers, hospitals & nursing homes, gender / class / ethnic impersonations, and many more; high school and up (New York University).
Service Learning Primer - A guide to the whys and hows of doing a community service project. Aimed at teachers, but material will also be useful to students planning a service project. Includes dozens of examples of projects for elementary through high school. Also includes teacher guides. (1994 - 2019, Live Wire Media, educational media producer).
Social Psychology - See Psychology links, above.
Social Science Glossary - Brief definitions of terms, arranged A to Z. High school and up. (2010 - 2020, Dr. Frank Elwell, Rogers State University)
Sociology: Everyday Sociology Blog VIDEO - Jargon-free commentary by four sociologists and guest contributors 'on everything from politics, religion, race, and inequality to pop culture.' High school and up. (W. W. Norton & Company, book publishers)
Solutions Story Tracker® NEW - 'A curated database of rigorous reporting on responses to social problems.' (Solutions Journalism Network; non-profit organization)
Statistics - Statistics links.
Sustainability AUDIO - Radio stories covering a wide range of current topics in environmental and economic sustainability, including energy, food production, jobs, and climate change. High school and up (2022, American Public Media; site includes advertisements). See our Green Living Webfinders for links to practical advice on living a more environmentally-friendly life. See also Homework Links: ECOLOGY and Homework Links: GLOBAL CLIMATE CHANGE.
This I Believe [Archived page] - 'Americans from all walks of life share the personal philosophies and core values that guide their daily lives,' (2005 - 2009, NPR; site includes advertisements).
UNICEF News - The latest news on issues affecting children across the world, and UNICEF's work for children, including press releases, multimedia content and other resources for journalists; suitable for high school and up. (United Nations)
Walk in My Shoes UPDATED LINK [Archived page] - Activities designed to help you understand what it feels like to grow older, what happens to our bodies as we age, and what is true and not true about aging and older people. (University of Illinois Extension)
Work & Workers: InfoStories VIDEO - Explores a number of labor-related themes, such as trade unions, gender gap, child labor, peace & resilience through decent work, small & medium enterprises, and more. Stories are told through narratives enriched with infographics, videos, maps and case studies (International Labour Organization, a United Nations agency). See also Poverty in Focus, and Labor History links.