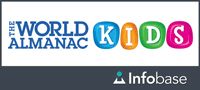 World Almanac for Kids VIDEO - Resources for homework, reports, and projects in a fun format from a trusted source; written for students in 4th - 8th grade. Covers a wide range of subjects, including geography, American history, world history, government, and more (in TOPICS, under GEOGRAPHY and SOCIAL STUDIES). If you're using this resource at home, you'll have to login with your library card barcode to begin.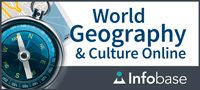 FACTS ON FILE: WORLD GEOGRAPHY & CULTURE - A definitive resource for the study of countries, cultures, and geography concepts and skills. Every country of the world is profiled in depth, covering all aspects of its geography, history, society, and culture. At-a-glance information, maps and flags, videos, images, gazetteer entries, biographies of famous people, a timeline, and current news supplement each country profile. Comprehensive entries about the U.S. states are also available. If you're using this resource at home, you'll have to login with your library card barcode to begin.
Assignment: New Jersey [Archived page] - A good basic history of the state, arranged by time periods, plus a timeline, fast facts, maps, symbols, and famous firsts. Middle school and up (2011, State of New Jersey). See also About New Jersey (State of New Jersey), and New Jersey Facts for Students. For more on New Jersey, as well as information about South Plainfield, see our Local Information page.
California: Calisphere - Primary sources (photographs, documents, newspaper clippings, political cartoons, art, and other cultural artifacts) that explore California's role in national and world history. Brief overviews of each topic provide historical context for images. (University of California)
Canadian Encyclopedia - The complete illustrated text of The Canadian Encyclopedia, 'a first source for information on all Canadian topics.' Also includes articles from the Canadian news magazine Maclean's. (Historic Canada, 'the largest, independent organization dedicated to Canadian history, identity and citizenship.')
Central America - See Latin America links, below.
China ABC [Archived page; some info may be outdated] - Basic facts about mainland China, including history, flag, emblem, anthem, people, geography, holidays, government, and more. Formerly China in Brief. (Official Website of the Chinese Government)
Country Studies [NOTE: These studies were created in 1988 - 2015, so they are chiefly of historical interest] - Electronic versions of 80 books about the history and the social, economic, political, and national security systems and institutions of countries throughout the world. Most books in the series deal with a single foreign country, but a few cover several countries or a geographic region. The series includes several books on countries that no longer exist in their original configuration, such as Czechoslovakia, East Germany, the Soviet Union, Sudan, and Yugoslavia; does not include Canada, France, the United Kingdom, and some other nations. Listed alphabetically; available in PDF, full text, EPUB, and XML. High school and up (Library of Congress). The U.S. State Department's Historical Reference pages provide historical information on aspects of U.S. relations with the countries of the world, from 1776 to the present. For up-to-date information, see World Factbook, below.
European Union in Brief - Explains what the European Union (EU) is and how it was formed, member countries, symbols, money, and other facts & figures. Includes updates on Brexit, the United Kingdom's withdrawal from the EU. (European Union official site)
Flags and Maps of the World - The World Factbook includes flags and flag descriptions for each country, plus a map and a basic overview of geography, people, government, economy, and more. Updated frequently (U.S. Central Intelligence Agency). Flags of the World displays the official flag for each country, with explanations of symbols, as well as historical flags, military flags, coats of arms, and lots of other flag-related info. Also includes flag outlines you can print and color in. All ages (1994 - 2023; volunteer-maintained site).
Geography Dictionary & Glossary - Defines hundreds of terms used in geography and related disciplines; high school and up. (2005 - 2022, by Danny Harrington, ITS Tutorial School, Hong Kong)
Geography Quizzes: World Capitals Quiz INTERACTIVE - Test your knowledge of capitals around the world (1994 - 2017, Michigan State University). You can also test and improve your knowledge of world & U.S. geography with Geography Web Games INTERACTIVE (Sheppard Software; site includes advertisements).
Getty Thesaurus of Geographic Names® Online [Enter town/city name (DO NOT INCLUDE STATE) in 'Find Name or ID' box and country name in 'Nation' box.] - Find geographic coordinates (latitude & longitude), official & alternate names, and other information about more than a million places around the world; high school and up (J. Paul Getty Trust).
India - Provides a basic profile of India, plus information about Indian culture & heritage, national symbols, India & the World, and more. (Official Portal of the Indian Government)
Iranica Encyclopedia - Articles on Iranian civilization in the Middle East, the Caucasus, Central Asia, and the Indian Subcontinent, covering Iranian history & culture, languages & literatures, biography, education, ethnic groups, religion, science, and more; high school and up. (2022; an international, collaborative project based at Columbia University)
Ireland - A wealth of learning materials for elementary school students on the history, geography, and culture of Ireland. (Ask About Ireland project)
Japan KidsWeb - A fun site that helps children learn about Japan - its geography, history, culture, sports, government, and more; elementary and middle school (Ministry of Foreign Affairs of Japan). Japan: Places, Images, Times & Transformations AUDIO VIDEO offers essays & articles on Japanese culture, society history, and language, plus images, audio, video, maps, timeline, and glossary; high school and up (University of Pittsburgh).
Latin America Reports - News reports and other articles focussing on economy, politics, society, and technology in Latin American countries; high school and up (Espacio, a media company based in Colombia). Teaching Central America has links to resources including News Sources, History, Activism, Lessons, Podcasts, Current Events, Books, and Films; mostly for high school and up (2021, Teaching for Change; non-profit organization).
License Plates of the World - Photos of license plates from all US states and countries around the world; includes specialty plates, historic plates, and links to Motor Vehicle Departments and related sites. (By Michael Kustermann, license plate collector; site includes advertisements)
Maps: Finding Our Place in the World - Explores the history of maps and mapmaking, with text and images. (2007, Field Museum)
Maps: United States - State maps, historical maps, and topographical maps; middle school and up (University of Texas). For more historical U.S. maps, see Interactive Map of U.S. History and related links.
Maps: World Region & Country Maps - A good source of printable (PDF) maps, some in color, from the United Nations; all ages. Enchanted Learning has Outline Map Printouts for many (but not all) countries; elementary school (2002-2018; site includes advertisements). The Perry-Castañeda Library Map Collection [Archived page] is a huge collection of online maps of the world and specific regions and countries, including relief maps and historical maps, as well as links to maps related to current events (University of Texas). The David Rumsey Historical Map Collection contains more than 150,000 maps, focussing on rare 16th through 21st century maps of North and South America, as well as maps of the World, Asia, Africa, Europe, and Oceania. It includes atlases, wall maps, globes, school geographies, pocket maps, books of exploration, maritime charts, and a variety of cartographic materials from about 1550 to the present; high school and up (Stanford University). Old Maps Online is a gateway to over 400,000 historical maps in libraries around the world; high school and up (Klokan Technologies GmbH et al.). See also World Fact Book, below.
National Geographic Resources - See National Geographic Resource Library.
New Jersey - See Local Information.
Peace Corps - See Peace Corps Stories.
Pictures of Places - Need a picture of the Eiffel Tower, the Lincoln Memorial, the Taj Mahal, or the Leaning Tower of Pisa? This site links to thousands of great printable pictures of places all over the world. Arranged by state / country / region (MindTravellers Inc.; site includes advertisements). Cities Around the World: Photographs has thousands of photographs from the slide collections of the American Geographical Society; browse or search by city name (University of Wisconsin).
Population Clocks (U.S. and World) - Constantly updated estimates of total U.S. and world population, with some related data. For detailed U.S. population statistics, see data.census.gov; high school and up (U.S. Census Bureau). High school students can access more census data and related info on the QuickFacts page. See Data Visualizations for infographics on U.S. topics such as population, employment, income, education, and more (U.S. Census Bureau). Our World in Data offers interactive data visualisations (charts and maps) that show a wide range of global trends in topics such as health, food provision, growth & distribution of incomes, violence, rights, wars, culture, energy use, education, and environmental changes; high school and up (University of Oxford).
State Facts for Students - Quick facts on each of the 50 states - population, geography, business, and more; for kids aged 8-12. High school students, see Census links, above.
United Nations News Centre - Current news about the U.N. and the world; high school and up.
World Factbook - Flags, maps, photos, and up-to-date overviews of all countries, plus statistics on geography, environment, government, economy, people, transportation, communication, and the military. Maps, flags, and photos for all ages; text and data for high school and up. Use the drop-down menu to choose a country or territory (U.S. Central Intelligence Agency). See also FACTS ON FILE: WORLD GEOGRAPHY & CULTURE.
World Leaders - This site lists the names of current foreign government leaders; arranged alphabetically by country and updated frequently. Part of the World Factbook (U.S. Central Intelligence Agency)