Stingray Qello Concerts is the only place to watch over 1700 of the most amazing live moments in music. It's the world's largest collection of full-length concerts and music documentaries streamed on-demand to just about any digital device. It's like a never-ending concert ticket.
Discover: Qello carefully curates the live performances that matter. The greatest concerts and music documentaries are right here. With new releases every week, from iconic stars to today's best artists, you'll never run out of amazing shows to watch.
Anytime and Everywhere: Wherever you are, the live music experience follows. Watch Qello Concerts on your big screen with Apple TV, Roku, Chromecast, Amazon Fire TV, Sony, and more.
Music for All: From the 1920s to today's hottest artists, Qello Concerts spans over 30 genres, from classical to rock, reggae to country. Watch the greatest performances on film from Queen, Pink Floyd, Lady Gaga, Metallica, Nirvana, Tiësto, Tupac, Slipknot, Paul McCartney, The Rolling Stones, The Doors, The Who, Bruce Springsteen, Bob Dylan, Beyoncé, Jay-Z, Stevie Wonder, Pavarotti, Celine Dion, Eagles, David Bowie, Eric Clapton and so many more.
Experience: Qello gives you those special music moments when they matter most. Whether you're throwing a holiday party, just having some people over, or need some quiet time, Qello has the greatest performances by the greatest artists.
Personalized for You: It's all about you and the moment. You choose what concerts you want to watch or let us guide you to the live music to suit your mood.
Availability for Everyone: Patrons can log in at the library, at home, and on multiple devices.
Click here if you are accessing Qello with a smartphone or other mobile device. If you don't already have an RB Digital account, you will need to create one.
Click here to log in to Qello on a desktop or laptop computer through the South Plainfield Library's RB Digital page (shown below). If you don't already have an RB Digital account, you will need to create one.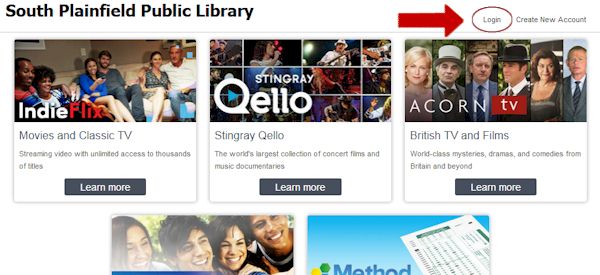 TO CREATE AN ACCOUNT, enter your library card barcode number in the first pop-up, then enter your name & email, and choose a password.

Password must have at least 7 characters & include letters and numbers.

You must also set a password on the Qello site

. We recommend you use the same password you used for RB Digital.
TO WATCH CONCERTS ON YOUR PC: Once you have logged in, click on the Qello graphic, then 'Proceed to Website', and browse concerts by genre, decade, or artist (A-Z), or search for a specific show, artist, or song. Click on the concert you want to listen to, then either click on the video to watch the complete show, or scroll down the list below to choose a specific song.
TO WATCH ON OTHER DEVICES: Find your device in the list of compatible devices and click on the link to download the appropriate app. Click here for a brief guide to the Qello app

[Link opens a PDF]

.
30-DAY ACCESS: Qello provides unlimited access to content but

you will need to log into the Qello website with your user name and password every 30 days

to re-activate your access. You will receive an email reminder so you don't forget!
Click here to view the Qello Concerts FAQ.