METHOD TEST PREP ACT & SAT prep programs can help students raise their ACT scores an average of three points and their SAT scores an average of 150 points!
Diagnostic evaluations, lessons, quizzes, and full-length exams help you strategically navigate the SAT and ACT by focusing on both content and test-taking techniques. You can also build your fundamental reading comprehension, grammar, and math skills.
Designed to work seamlessly with your unique learning style and busy schedule, RB Digital's Method Test Prep can be enjoyed on your mobile devices through the RB Digital app, as well as desktop or laptop computers.
Method Test Prep is used by over 1,000 schools around the world, and has helped hundreds of thousands of students achieve their standardized college admissions exam goals.
SAT and ACT Program Highlights:
Diagnostic evaluations that establish baseline scores and set goals.
Weekly checklists that move students through each section of the test.
Quizzes after each lesson, with instant feedback - like having a tutor on your computer!
Thousands of questions in the test database.
Timed full-length exams to simulate the real test.
Resource materials, like quick prep guides and formula sheets.
Robust reporting on quiz and test results that highlight students' strengths and weaknesses.
A vocabulary builder to improve students' expertise.
Access via RB Digital mobile apps and browsers.
Click here to access Method Test Prep with a smartphone or other mobile device. If you don't already have an RB Digital account, you will need to create one.
Click here to access Method Test Prep on a desktop or laptop computer through the South Plainfield Library's RB Digital page. If you don't already have an RB Digital account, you will need to create one.
Click here for a User Guide to Method Test Prep (desktop/laptop or mobile device) [Link opens a PDF]
Click here for RB Digital Help
---
For help with many other types of standardized tests, see: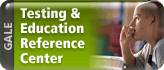 Testing & Education Reference Center.
Taking a college entrance or licensing exam? Looking for a college or graduate school? Need help finding scholarships? Use this database to search thousands of college and graduate school entries, identify scholarships, take practice tests, and use test prep eBooks.
---
See our College & University links for lots of additional information on choosing, applying for, and financing your college education.