NEW LOGIN! As of May 1, 2019, we are part of the Libraries of Middlesex Automation Consortium (LMxAC). Be sure to choose Libraries of Middlesex Automation Consortium (rather than South Plainfield Public Library as before) from the dropdown menu when you log in to eLibrary NJ / Overdrive (see image below). You will also be asked for your library card number and PIN. Your default PIN is the last 4 digits of the telephone number we have on file for you. If you have any problems logging in, don't hesitate to call the Circulation Desk at (908) 754-7885 ext. 2 to have your PIN reset.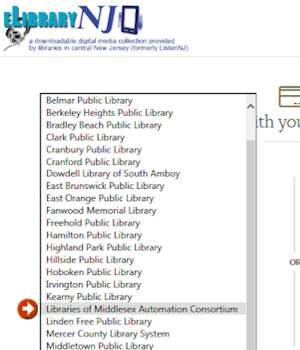 ---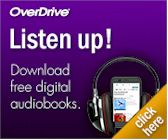 Download audiobooks to transfer to your PC/Mac or portable device, or burn to a CD! You can also listen to audiobooks in your browser. Choose from a great collection of bestsellers, mysteries, classics, biographies, history, books for kids & teens, and lots more!
eLibrary NJ offers MP3 Audiobooks which can be transferred to a wide range of devices. The latest version of Overdrive Media Console works with Windows & Mac PCs, iPhone/iPad/iPod, Android, Windows Phone, Blackberry, PlayBook, Kindle, and Nook!
PLEASE NOTE: Audiobooks in WMA format have been discontinued.
To set or change your DEFAULT LENDING PERIOD, log in, then click on MY ACCOUNT and select SETTINGS. Next, choose a default lending option of 7 days, 14 days, or 21 days for each format (audiobook and ebook). You can also check or uncheck the option to 'Have your holds automatically borrowed for you as they become available.' (This option is checked by default unless you change it.)
From SETTINGS, you may also choose CONTENT PREFERENCES (Maturity levels) and DISPLAY OPTIONS (High Contrast or Dyslexic Font) for the website. Changing the setting for MATURITY LEVELS will allow you to exclude mature adult content or juvenile content while you browse and search the digital collection.
If you click on BORROW directly from your search results page, the item will be checked out for the default lending period you chose in SETTINGS - no other options will be provided.
To check out an item for a different lending period without changing your default settings, click on the TITLE or COVER IMAGE to go to the full page for that title. On that page, you can click on the downward arrow next to the 'BORROW' button and choose the desired lending period from the drop-down options.
You can now SUSPEND HOLDS which you have placed on audiobooks or ebooks. This will allow you to make progress on a title's waiting list (for example, when you're in the middle of another title) without having the title become available for you to borrow.
If an item can be renewed, the option to REQUEST AGAIN will appear on your bookshelf within 3 days of the expiration date. If it cannot be renewed (i.e., if other borrowers are waiting to check it out), you will still be given the option to request again, and the item will be added to your holds.
Most eLibrary NJ books may now be returned before the due date. To return a book early, log in to your account. You will see a list of items you currently have checked out in your Bookshelf. Click on 'Return Title' for any item you wish to return. You may also be able to return the book from the Overdrive app. CLICK OR TAP HERE to find out more about returning titles early.
IF YOU ARE USING WINDOWS 8, 8.1 or 10:
For more information, please see
CLICK OR TAP HERE to download the latest version of Overdrive Media Console, which works with a variety of devices such as iPhone®, iPad®, Android (including NOOK & Kobo), Chromebook, Windows Phone, Windows 8 & 10, and Kindle Fire HD; download links are at the bottom of the page. CLICK OR TAP HERE for a list of COMPATIBLE DEVICES.
LIBBY, THE NEW OVERDRIVE APP FOR READING EBOOKS AND LISTENING TO AUDIOBOOKS

Libby is available for:
CLICK OR TAP HERE to download LIBBY
CLICK OR TAP HERE for help with LIBBY
CLICK OR TAP HERE to find out 12 tips for getting the most out of Libby!
---
Go to RB Digital Audiobooks to borrow audiobooks, mostly of classic fiction and non-fiction. After you check out a title, you can listen instantly online in your browser.
To listen to RBDigital audiobooks offline you will need to install the RBDigital Media Manager app to your PC, Mac, or device.Use the links below to DOWNLOAD THE RBDIGITAL MEDIA MANAGER APP to your Windows or MAC computer. OS requirement for Windows is Vista or higher. OS requirement for the MAC is OS 10.7 or higher.
Use the links below to DOWNLOAD ONE OF THE RBDIGITAL MEDIA MANAGER MOBILE APPS to your portable device.
NOTE: Due to Microsoft's decision to no longer support DRM encryption, protected RBdigital titles can no longer be transferred from the RBdigital Media Manager. You can still listen to protected titles in the RBdigital Media Manager, stream the titles from your library's RBdigital website, or listen to the title with one of the RBdigital mobile apps on Apple, Android, or Kindle Fire devices. Most RBdigital titles are classics and are non-protected.
Kindle Fire App users: If you are having problems signing into your existing Kindle Fire app, please uninstall the app from your Kindle Device, and install the updated Kindle Fire App currently available in the Amazon Store.
---
Go to Hoopla for more free audiobooks you can borrow!