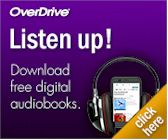 Download audiobooks to transfer to your PC/Mac or portable device, or burn to a CD! Choose from a great collection of bestsellers, mysteries, classics, biographies, history, and lots more!
eLibrary NJ offers MP3 Audiobooks which can be transferred to a wide range of devices. The latest version of Overdrive Media Console works with Windows & Mac PCs, iPhone/iPad/iPod, Android, Windows Phone, Blackberry, PlayBook, Kindle, and Nook!
PLEASE NOTE: Audiobooks in WMA format have been discontinued.
THE eLIBRARY NJ WEBSITE WAS RECENTLY RE-DESIGNED, AND USERS SHOULD BE AWARE OF THE FOLLOWING CHANGES:
You can now opt to set MATURITY LEVELS for the content you want to see. This will allow you to exclude mature adult content or juvenile content while you browse and search the digital collection.

To set or change the DEFAULT LENDING PERIOD, log in to your account and click on 'SETTINGS'

. Next, choose a default lending option of 7 days, 14 days, or 21 days for each format (audiobook and ebook). Then click on 'Done'.
From 'SETTINGS', you may also choose

Maturity levels, cover image display, and High Contrast or Dyslexic Font display

for the website.

To change the lending period for an individual title, you must change the default setting BEFORE you borrow the book

. Beneath the 'BORROW' button it will tell you how long the book may be checked out for. Below that, you will see 'Change your lending period' in parentheses. To change the lending period,

click on 'Change your lending period' BEFORE YOU CLICK ON 'BORROW'

. Then choose a default lending option of 7 days, 14 days, or 21 days for the relevant format (audiobook or ebook) and click on 'Done'.

IMPORTANT NOTE: Changing the lending period for any title will change your default setting! Be sure to change the default lending period back to your preferred setting after you have checked out the title.

You can now SUSPEND HOLDS which you have placed on audiobooks or ebooks. This will allow you to make progress on a title's waiting list (for example, when you're in the middle of another title) without having the title become available for you to borrow.

If an item can be renewed

, the option to renew will appear on your bookshelf within 3 days of the expiration date.

Some eLibrary NJ books may now be returned before the due date

. To return a book early, log in to your account. You will see a list of items you currently have checked out in your Bookshelf. Click on 'Return Title' for any item you wish to return. You may also be able to return the book from the Overdrive app. CLICK HERE to find out more about returning titles early.
IF YOU ARE USING WINDOWS 8 or WINDOWS 10:
Click here to download the Overdrive Media Console (OMC) App for Windows 8.1 and Windows 10

UPDATED LINK!

, which works with MP3 files.
For more information, please see How Overdrive Media Console Works in Windows 8, How to install OverDrive Media Console for Windows 8, and How OverDrive works on Windows 10

NEW!

.

TROUBLESHOOTING

- If you have trouble performing the Windows Media Security Upgrade in Windows 8, one of our helpful patrons offers the following solution: Go to Tools ==> Internet Options, select the Security tab, and uncheck the 'Enable Protected Mode' option. Then you can go to the Windows Security Upgrade page (you may need to open the Windows Security Upgrade page in Internet Explorer to get it to work) and click 'Upgrade' to upgrade the drm license.
CLICK HERE to go directly to eLIBRARY NJ AUDIOBOOKS.
CLICK HERE to go to eLibrary NJ Advanced Search page.
Click here to download the latest version of Overdrive Media Console, which works with a variety of devices such as iPhone®, iPad®, Android (including NOOK & Kobo), Chromebook, Windows Phone, Windows 8 & 10, and Kindle Fire HD; download links are at the bottom of the page. CLICK HERE for a list of COMPATIBLE DEVICES.
---
---
PLEASE NOTE: OneClick Digital audiobooks will be discontinued as of March 31, 2017!
---

OneClick Digital offers audiobook recordings of great works of literature, biography, children's classics and more, from Anne of Avonlea & Anna Karenina to The Wizard of Oz & Wuthering Heights. Compatible with Windows, Mac, Android, iPhone, iTouch, iPad, Kindle Fire and Kindle Fire HD.
When accessing OneClick Digital for the first time, you will need to create a personal account on OneClick Digital AFTER you login with your name, library card barcode and PIN from our login page.
To find something specific on OneClick Digital, enter a name or keyword(s) in the Search Box. Use the dropdown menu next to the Search Box to limit your search by title, author, or narrator, or to access the Advanced Search options.
Click on 'BROWSE' to see all available titles, browse all audiobooks or ebooks, or browse titles by genre (Mystery, Romance, Biography, etc.). You can also browse 'Newly Added' titles ('Most Popular' and 'Best Sellers' are not applicable, though they are listed in the dropdown menu). Click on the title you're interested in, select your desired loan period (up to 21 days), then click the 'CHECKOUT NOW' button to download the ZIP file; you will need to unzip it to listen to the audiobook. The site will ask you to login if you are not already logged in.
To renew items you have checked out, log in to your account, then click on your name or user account icon (upper right) to access the User Menu. Select 'My Titles,' to see a list of the items you have checked out, as well as your Wishlist, Holds, and History. Select 'My Account' to update your username, email address, and preferences.
Did you know OneClickdigital also offers streaming eAudio? NEW!
Once you check out an eAudio title from our collection, if you have an internet connection and a device with a web-browser (PC, Mac, tablet, smartphone), you can stream the eAudio title without having to download it! If you don't have a portable device, or don't like the extra steps of downloading, you can listen to any title in our collection with this method. CLICK HERE FOR A DETAILED INSTRUCTION MANUAL. [Link opens a PDF.]