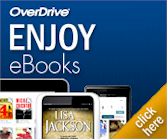 Now also includes eBooks for KINDLE! NOTE: eLibrary NJ will send you to Amazon.com to download KINDLE® eBooks. Click here for instructions on checking out KINDLE eBooks.
The new Overdrive app now offers a font for DYSLEXIC READERS!
NOTE: Additional eBooks (EPUB format) which are in the public domain (no longer under copyright) may be downloaded without going through the eLibrary NJ checkout process! Click on the graphic at the bottom right side of the eLibrary NJ main page that says ENJOY ADDITIONAL EBOOKS TODAY! These public domain titles may be downloaded without login or checkout, and do NOT count against your regular checkout/lending options. This collection contains over 15,000 titles!
THE eLIBRARY NJ WEBSITE WAS RECENTLY RE-DESIGNED, AND USERS SHOULD BE AWARE OF THE FOLLOWING CHANGES:
You can now opt to set MATURITY LEVELS for the content you want to see. This will allow you to exclude mature adult content or juvenile content while you browse and search the digital collection.

The easiest way to find a specific title in a specific format

is to search for that title, then when the search results are displayed, click on 'DEVICE' in the left-hand menu, then click on the desired format (Kindle Book, Overdrive Read, EPUB eBook, PDF eBook, MP3 Audiobook, WMA Audiobook, etc.).

To set or change the DEFAULT LENDING PERIOD, log in to your account and click on 'SETTINGS'

. Next, choose a default lending option of 7 days, 14 days, or 21 days for each format (audiobook and ebook). Then click on 'Done'.
From 'SETTINGS', you may also choose

Maturity levels, cover image display, and High Contrast or Dyslexic Font display

for the website.

To change the lending period for an individual title, you must change the default setting BEFORE you borrow the book

. Beneath the 'BORROW' button it will tell you how long the book may be checked out for. Below that, you will see 'Change your lending period' in parentheses. To change the lending period,

click on 'Change your lending period' BEFORE YOU CLICK ON 'BORROW'

. Then choose a default lending option of 7 days, 14 days, or 21 days for the relevant format (audiobook or ebook) and click on 'Done'.

IMPORTANT NOTE: Changing the lending period for any title will change your default setting! Be sure to change the default lending period back to your preferred setting after you have checked out the title.

You can now SUSPEND HOLDS which you have placed on audiobooks or ebooks. This will allow you to make progress on a title's waiting list (for example, when you're in the middle of another title) without having the title become available for you to borrow.

If an item can be renewed

, the option to renew will appear on your bookshelf within 3 days of the expiration date.

Some eLibrary NJ books may now be returned before the due date

. To return a book early, log in to your account. You will see a list of items you currently have checked out in your Bookshelf. Click on 'Return Title' for any item you wish to return. You may also be able to return the book from the Overdrive app. CLICK HERE to find out more about returning titles early.
NEW FONT FOR DYSLEXIC READERS
Are you dyslexic, or do you have a dyslexic child? The most recent version of the OverDrive app includes the option to select a dyslexic font when reading eBooks! Standard typefaces are often difficult to read for people with dyslexia as the letters are hard to differentiate and words tend to jumble together. Dyslexic fonts provide greater contrast in letters which solves this problem.
You can also view the eLibrary NJ website with a Dyslexic font display. Just go to 'SETTINGS' and choose your preferred display options.
CLICK HERE to go directly to eLibrary NJ home page.
CLICK HERE to go directly to eLibrary NJ Advanced Search page.
CLICK HERE to go directly to the regular EPUB eBooks collection.
CLICK HERE to go directly to the public domain EPUB eBooks collection.
Click here to download the latest version of Overdrive Media Console, which works with a variety of devices such as iPhone®, iPad®, Android (including NOOK & Kobo), Chromebook, Windows Phone, Windows 8 & 10, and Kindle Fire HD; download links are at the bottom of the page. CLICK HERE for a list of COMPATIBLE DEVICES.
---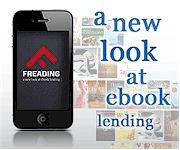 The Freading™ eBook Service allows us to increase the size and diversity of our collection by providing access to tens of thousands of books for free download! Freading offers eBooks in a wide range of genres & subjects, including Fiction & Literature, Biography & Autobiography, Business & Economics, Comics & Graphic Novels, Computers, Crafts & Hobbies, Foreign Language Study, Health & Fitness, History, House & Home, Juvenile & Young Adult books, Self-Help, Travel Guides, Spark Notes Study Guides, and more! Freading eBooks are available in ePUB format and/or PDF (most titles are available in one of these formats, some are available in both).
Freading has its own apps for the iPad; and iPhone, and its own apps for Android; tablets and phones. It is also compatible with Kindle Fire (not compatible with earlier Kindles), Nook, and Kobo devices. CLICK HERE for more information about APPS.
Click here to log in to Freading (or click the 'LOGIN' button on the upper right on the main page) and enter your library card barcode to log in.
You may borrow up to 3 Freading titles per week - Freading no longer uses tokens. In the upper right corner of the site, you will see 'weekly limit' counter, showing how many titles you have checked out. For example, if you have used two of your three weekly titles, the counter will say 2/3. If you have used up all your allotted loans for the week, you will be unable to download additional books, but you will be able to queue up for the following week to do so.
Unused book loans roll over to the following week. Every 4 weeks, unused book loans expire. An individual loan is for 2 weeks and may be renewed for an additional 2 weeks. Click here for Freading FAQ.
Computer users: be sure to OPEN rather than SAVE eBooks when downloading from Freading.
NOTE: On PCs, Adobe Digital Editions will automatically create a 'My Digital Editions' folder in your 'My Documents' folder. Your eBooks will be downloaded to this folder. THERE IS NO WAY TO MOVE THIS FOLDER OR DOWNLOAD BOOKS TO A DIFFERENT LOCATION ON YOUR PC.
---
To find more free eBook downloads, visit the sites listed below:
See also:
Feedbooks Public Domain collection (NOTE: Books listed on other sections of Feedbooks are NOT free.)
Online Books Page (University of Pennsylvania)