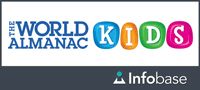 World Almanac for Kids - Resources for homework, reports, and projects in a fun format from a trusted source. Covers a wide range of TOPICS, including biographies, with a section on multicultural biographies featuring notable Black, Asian, and Hispanic Americans; written for students in 4th - 8th grade. If you're using this resource at home, you'll have to enter your library card barcode to begin.
Academy of Achievement VIDEO - A large collection of biographies with interviews & photos of important figures in the arts, business, public service, science & exploration, and sports. Each category includes profiles on dozens of individuals.
African American History: People (BlackPast.org) - Short descriptions of individuals who have contributed to the shaping of African American history; most include a picture. Enter a keyword to search for a specific name or word, or scroll down the page for the list of tags (by Quintard Taylor, History Professor at University of Washington). Black Leadership VIDEO offers interviews with dozens of leaders from the black community, exploring the early influences on their lives, along with 'issues of black leadership and the transformational role of the civil rights movement in America' (University of Virginia). Need more? Check out our African-American History Links.
African American Scientists: Mop Top, the Hip Hop Scientist™ INTERACTIVE [Archived page] - A colorful site featuring short biographies of a dozen African-Americans in the sciences, plus related material, for middle school students (2012; by Jackie Johnson, an instructor at Wake Technical Community College). African Americans in the Chemical Sciences offers profiles of George Washington Carver and 10 other important African Americans scientists; length varies (American Chemical Society). Ten Black Scientists that Science Teachers Should Know About provides brief descriptions with links to additional information (PBS).
Amateurs in Science [Archived page] - Brief stories of ten amateur scientists who made enormous contributions to science. (1996 - 2002, WGBH / PBS; site includes advertisements)
Amazing Americans INTERACTIVE - Entertaining stories and fun quizzes about Leaders & Statesmen, Activists & Reformers, Adventurers & Explorers, Musicians & Composers, Writers & Artists, Industrialists & Entrepreneurs, Scientists & Inventors, and Athletes & Entertainers 'who made this country what it is today.' (Library of Congress)
American History Biographies - Detailed biographies of selected historical men and literary figures from Benjamin Franklin to George W. Bush (University of Groningen, Netherlands).
American Presidents and First Ladies - See American Presidents and related links.
Astronaut Biographies - Brief biographies of current and past astronauts, as well as international astronauts and cosmonauts, plus related materials; use the menu on the left to navigate. Includes photos (NASA). Women in Space AUDIO offers a timeline describing the history of women in space from 1960 to 2005. Middle school and up (2005, NPR; site includes advertisements). See also NASA History: Women in Space, Women @ NASA VIDEO, NASA Women of STEM VIDEO (NASA). For more on diversity in the space program, see NASA's African-American Astronauts Fact Sheet (2018), Hispanic Astronauts Fact Sheet (2018), and Native Americans of NASA poster NEW!.
Aviation: American Aviatrixes - Women with Wings - An online exhibition about the early years of aviation and women's role in its development (Digital Public Library of America). For more learning resources about aviation, see National Air and Space Museum resources: Flight UPDATED LINK! and related topics (Smithsonian).
Chemists - Dozens of biographical articles about people behind some of chemistry's most important milestones; with images (Science History Institute). Women in Chemistry VIDEO is a TV show and companion film series celebrating women scientists and entrepreneurs. Use the menu to find additional biographies of scientists. High school and up. (Science History Institute) See also African Americans in the Chemical Sciences, above.
Design Library - Biographies of leading figures in modern architecture and design (Design Museum, London UK).
Disabilities: Famous (and not-so-famous) People with Disabilities UPDATED LINK! [Archived page; some broken links] - About 20 brief biographies of important people who had disabilities, including artists & writers, activists, political leaders, and others. (Disability Social History Project)
Energy Pioneers - Brief biographies (with images) of individuals who have made significant contributions to energy and science. Includes well-known scientists like Thomas Edison and Marie Curie, as well as lesser-known figures. (U.S. Department of Energy)
First Ladies - See American Presidents and related links.
Giraffe Heroes - Profiles of 'everyday heroes'- people you probably won't see on the evening news, who 'stick their necks out for the common good,' working on issues from poverty to gang violence to environmental pollution. The searchable index allows you to find heroes by name, field of 'Giraffe' work, location, gender, age, and occupation (non-profit organization: Giraffe Project). My Hero offers user-contributed stories of heroes from all walks of life, including the famous and the not-so-famous. Browse by subject or search by name/keyword (non-profit organization: My Hero Project).
Hispanic Americans - See Latinos in Science & Technology, below, and Hispanic-American & Latino links.
Holocaust: Stories of Rescue - Accounts of brave men and women who helped Jews to hide or escape from the Nazis during the Holocaust. (Jewish Foundation for the Righteous)
Inventors - See INVENTORS, INVENTIONS, & SCIENTIFIC DISCOVERIES.
Latinos in Science & Technology AUDIO - 'Highlights the lives and accomplishments of inventors, aviators, astronauts, and the everyday people of Latin America and the southwestern United States who have affected science and technology' (Smithsonian). See also Hispanic-American & Latino links.
Mathematicians - Biographies on hundreds of mathematicians from 1680 BC to the present. Search by keyword, or browse alphabetically or chronologically. Clicking on a name will bring up a very brief biographical sketch and related resources; click on 'Full MacTutor biography' for a longer biography. Includes African, Ancient Islamic, Ancient Greek, Ancient Indian, women, mathematicians by country, and more (University of St Andrews, Scotland). See also Women in Mathematics, below.
Obituaries [Free registration required; paid subscription required for full access] - New York Times biographical articles on important figures who have died recently, as well as notable deaths of the current and recent years, and those lost to the COVID-19 pandemic. Also includes Overlooked No More, obituaries of remarkable people (women and minorities) from the past who were previously omitted. (Site includes advertisements)
Presidents and First Ladies - See American Presidents and related links.
Scientific Biography - Short articles on scientists, most with a picture. You can browse scientists alphabetically, or by branch of science, gender/minority status, historical period, nationality, or a list of prize winners; or you can enter a name in the search box. Includes references for further reading and some links; expect broken links (2007, Eric Weisstein / Wolfram Research Inc.). Profiles in Science celebrates twentieth-century leaders in biomedical research and public health. Includes biographies of prominent scientists & physicians, along with explanations of their work, and archival (primary) documents such as letters, lecture notes, and more; high school and up (National Library of Medicine). National Academy of Sciences Biographical Memoirs offers lengthy (20-35 pages) biographies of hundreds of America's most distinguished scientists such as Thomas Edison, Alexander Graham Bell, Margaret Mead, and others whose names are less well-known. Use the Advanced Search to search for a specific scientist by name. PDF format, high school and up. See also African American Scientists, above, Amateurs in Science, above, and Women Scientists, below.
Sports: Breaking Records, Breaking Barriers - Brief profiles on dozens of pioneering athletes who dominated their sports; championed their country, race, or sex; and helped others to achieve. Includes Jackie Robinson, Althea Gibson, Hank Aaron, Billie Jean King, Mia Hamm, Kristi Yamaguchi, Roberto Clemente, and many more (Smithsonian). Crossing the Color Barrier: Jackie Robinson and the Men who Integrated Major League Baseball offers short biographies of Jackie Robinson, Larry Doby, Henry Thompson, Willard Brown and Dan Bankhead, the five African American men who played in the major leagues in 1947 (LA84 Foundation). See also Baseball, the Color Line, and Jackie Robinson (Library of Congress).
Statisticians in History - Biographies of some of the most accomplished statisticians in history - including Florence Nightingale! (American Statistical Association)
Supreme Court Justices - Biographies of all Supreme Court judges, past and present (OYEZ Project; Chicago-Kent College of Law). See also Biographies of Current Justices of the Supreme Court and Timeline: Justices 1789 to Present (Supreme Court of the United States)
Story Corps Oral Histories AUDIO - 'StoryCorps has given a quarter of a million Americans the chance to record interviews about their lives, to pass wisdom from one generation to the next, and to leave a legacy for the future. It is the largest single collection of human voices ever gathered. These powerful stories illustrate our shared humanity and show how much more we share in common than divides us.' (Non-profit organization)
TIME's Person of the Year - 'TIME's Person of the Year is bestowed by the editors on the person or persons who most affected the news and our lives, for good or ill, and embodied what was important about the year.' See also Time Person of the Year History, and TIME's 100 Most Influential People of the Year (Site includes advertisements)
U.S. Presidents and First Ladies - See American Presidents and related links.
U.S. Supreme Court Justices - See Supreme Court Justices, above.
Women in American History - Biographies and related links for about 100 notable American women (from Women in History, 'a non-profit corporation dedicated to the education of all people through the dramatic re-creation of lives of notable women in U.S. history'). Find more on notable women in our Women's History Links section.
Women in Mathematics - Biographical essays on women mathematicians, with additional resources (books & links) recommended for further study (Agnes Scott College). See also Female Mathematicians (University of St Andrews, Scotland).
Women Scientists in American History - Profiles of selected women scientists who made some of the most important discoveries that have transformed our lives (American Chemical Society; high school and up). The Babes of Science Podcast AUDIO offers audio profiles of women who made an impact in science, technology, engineering, or mathematics; high school and up (by radio producer Poncie Rutsch). See also Celebrating Women in Science (National Academy of Sciences), The Untold History of Women in Science and Technology AUDIO (Obama White House), Women Changing the Face of Medicine (National Library of Medicine; high school and up), Women Life Scientists Lessons & Biographies of Female Biologists (American Physiological Society; middle school and up), Women Inventors, Women in Chemistry, and Women in Space links, above. Colorín Colorado has a Women in Science Booklist for grades K-12.
Women: Inspiring Women - Interviews with women from around the world 'who are changing the world as we know it.' Interviewees include Isabel Allende, Maya Angelou, Margaret Cho, Melissa Etheridge, Ana Nogales, Gloria Steinem, Helen Thomas, Annie Lennox, Alice Walker, Wangari Maathai and others. (From Feminist.com, non-profit organization).
Working Heroes: Key People in Labor History - Biographies of men and women who shaped America's labor movement; high school and up. (AFL-CIO)