---
---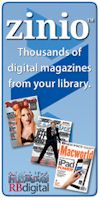 When you first use Zinio for Libraries, you will need to create an account with your name, email, and a password, AFTER you have logged in through the library website. You no longer need to create another account on Zinio.com to view magazines on your PC, Mac, or mobile device.
NOTE: If you subscribe to digital magazines personally, you may already have your own Zinio.com account. If so, you do NOT need to log in to your personal Zinio.com account read magazines in Zinio for Libraries. For additional information, see 'Zinio.com Account (Optional)' on the Zinio for Libraries FAQ.
To read magazines on your mobile device, you will need to download and install the appropriate app for your device. A Zinio for Libraries mobile app is a READ ONLY app that allows enhanced reading options, including bookmarking and reading offline. You can't check out magazines from the app, but any magazines you have previously checked out will will automatically load into your app.
Finding the Zinio for Libraries App for your Device
When you check out a magazine, links to download apps will be provided in the pop-up window. In addition, App links for iPad, Android, iPhone, and Kindle Fire/HD/HDX are located at the bottom of the library collection pages. Apps (listed as "Zinio for Libraries") are also available from the Apple App Store for iPad and iPhone and from Google Play for Android. Or, you may download apps using these links:
Updated Zinio Checkout Process
You can CHECK OUT a magazine directly from the list of all magazines by clicking on the CHECKOUT NOW icon below the magazine cover, which looks like this:
If you want more details about the magazine, or a list of back issues, click on the magazine cover.
After you check out a magazine, a dialog box will appear to show that your checkout was successful. The dialog box will offer you the choice to Keep Browsing, Start Reading (PC/Mac Streaming), or Get the New App (iPad or Android) to read offline. You can also check off the option 'Email me when the next issue is available.' The magazine you've checked out will automatically be added to your Magazine Collection.
To START READING on your PC/Mac, click on the magazine cover, or on the READ NOW icon below the magazine cover, which looks like this:
The Zinio reader will automatically open in Zinio.com. Use the arrows on the left and right to turn the pages. To see a display of smaller images for all the pages, click on the grid icon, which looks like this:
To see the issue's Table of Contents, click on the list icon which looks like this:
Additional icons allow you to make bookmarks, toggle to Full Screen view, switch to Text View, zoom, and print.
To view a magazine you have previously checked out, click on the MY COLLECTION link.
'MY COLLECTION' Link
When you are logged in, the MY COLLECTION link, located beneath your name in the upper-right corner of the library collection page, allows you to manage and read all checked-out content in one location. Click on it to see all the magazines you have checked out. Read magazines by selecting the READ NOW icon in the lower left of each checked-out magazine, or click on the magazine cover image. You can remove a magazine issue from your collection by clicking on the TRASH CAN icon beneath the magazine cover.
To go back to the list of all the magazines in the Library Collection, click on the BROWSE MAGAZINE COLLECTION link that appears beneath your name when you are on the MY COLLECTION page.
Click here to view the Zinio for Libraries FAQ with more detailed information about using Zinio for Libraries.
Click here for a searchable/printable PDF version of the FAQ. [Link opens a PDF]