FERGUSON'S CAREER GUIDANCE CENTER (Facts on File) VIDEO - Comprehensive and easy-to-use career research database offers information on more than 3,300 jobs and 94 industries, plus advice on applying for a job, acing an interview, behaving professionally in the work environment and more. More than 90 sample resumes and cover letters included! The Resources section contains over 50,000 entries on scholarships, internships, and other opportunities. Includes more than 290 videos present essential career information on both specific jobs and industries and on skills. If you're using this resource at home, you'll need to enter your name, library card barcode number, and PIN to get started.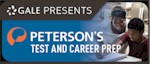 PETERSON'S TESTING & EDUCATION REFERENCE CENTER - Search thousands of college and graduate school entries, identify scholarships, take practice tests, and use test prep eBooks; includes practice tests and study tips for all kinds of standardized tests, including the SAT, ACT, PSAT, CLEP, GED, NCLEX, GRE, GMAT, LSAT, MCAT, civil service, postal, law enforcement, and ASVAB. If you're using this resource at home, you'll need to enter your name, library card barcode number, and PIN to get started. (Peterson's / Gale Cengage Learning / Nelnet, Inc.)

NJCAN VIDEO - The New Jersey Career Assistance Navigator (NJCAN) provides accurate, comprehensive, current, and relevant occupational, post-secondary school and financial aid information. NJCAN contains the latest national, New Jersey and local labor market data and projections. NJCAN also includes information on job interview preparation, resume and cover letter creation, how to keep a job, self-employment, and military occupations. NJCAN is designed to support lifelong career exploration, and career planning and decision-making through easy to use, straightforward search and sorting utilities, and an online portfolio for saving information from all system components. Click here to login as a NJ Resident. (New Jersey Department of Labor and Workforce Development & University of Oregon)
Career Aisle UPDATED LINK! VIDEO - A collection of career videos for grades 6-12. (South Carolina Educational TV et al.)
Career Interest Game - Guidance to help you match your interests and skills with suitable careers and help you begin thinking about how your personality will fit in with specific work environments and occupations (University of Missouri).
Career Plan Year by Year [Link opens a PDF document] - Steps you can take to plan and work toward your future career while in college. Some of the suggestions are specific to Westfield State College, but most will be useful at any college.
CareerShip - Online career exploration for middle and high school students. Students can review careers by cluster, match careers to their interests, or search for a particular career (Mapping Your Future, a nonprofit organization sponsored by student loan guaranty agencies; powered by O*NET OnLine,U.S. Department of Labor). See also My Next Move INTERACTIVE, an interactive tool for job seekers and students to learn more about their career options, with tasks, skills, salary information, and more for over 900 different careers (National Center for O*NET Development, U.S. Department of Labor).
Career Videos (America's Career InfoNet) VIDEO - Browse CareerOneStop's video collection to learn about careers, industries, skills and abilities, or work options and education levels. Videos may be downloaded in several different formats (State of Minnesota and U.S. Department of Labor).
Kids.gov: Careers VIDEO - Links to career information for students in grades K-5. There is a separate section for students in grades 6-8. (Kids.gov is the official kids' portal for the U.S. government)
Major Resource Kits VIDEO - Connects academic majors to potential careers by providing information on career paths, sample job titles, short bibliography, and related links for each particular major. (University of Delaware)
Occupational Outlook Handbook - Explains what workers do on the job in hundreds of occupations; also describes working conditions, education or training requirements, earnings, and expected prospects for a wide variety of jobs. Click on 'A-Z Index', or search by occupation keyword. Updated every two years. (U.S. Department of Labor)
Student Jobs - Lists federal government job opportunities, including summer jobs, for students and recent graduates. (U.S. Office of Personnel Management)
Youth at Work - Information for young workers about employee rights & responsibilities, and about different types of discrimination affecting young workers and how to help prevent it (U.S. Equal Opportunity Commission). Young Workers: Safety and Health provides advice for teen workers on how to protect themselves on the job. Also offers related information for parents, educators, and employers (OSHA: U.S. Occupational Safety & Health Administration). Youth Rules explains what hours teens can work, what types of jobs they can do, and how to help prevent workplace injuries. Includes information directed at teens, parents, and educators (U.S. Department of Labor). See more work-related links for teens on our TeenZone page.
Accounting Careers INTERACTIVE - Find out whether a career in accounting is right for you. Includes a career personality quiz, plus information on skills, education, jobs, and internships (American Institute of Certified Public Accountants). See also Mathematics Careers, below.
Architect - Provides an introducation to the field of architecture, with information on the necessary education & other steps to becoming an architect, and related resources. (American Institute of Architects)
Archivist - Explains what archives are, what archivists do, qualifications for employment, and salaries & benefits. (Society of American Archivists)
Astronaut 101 - 'Lt. Col. Cady Coleman talks about what it's like to be an astronaut and how a passion for high school chemistry led her to become one.' See also Virtual Skies Aerospace and Aviation Technology Career Profiles and Careers at NASA (National Aeronautics and Space Administration).
Astronomy - A brief summary of what astronomers do and how to prepare for a career in astronomy (International Astronomical Union).
Atmospheric Sciences Careers NEW! - Learn more about what atmospheric science professionals do for their jobs. Covers fields such as astronomy & astrophysics, engineering, environmental science, geography, geology, meteorology, oceanography and more (National Center for Atmospheric Research). All About Careers in Meteorology gives a broad overview of careers in atmospheric and related sciences, with links to many related resources (American Meteorological Society). Meteorology Careers gives brief descriptions of various career choices for meteorologists (National Oceanic and Atmospheric Administration).
Biological Sciences - An overview of education and careers in biology, with links to related resources (American Institute of Biological Sciences). See also Microbiology Careers, below.
Book Publishing - Briefly describes different types of careers in book publishing, and lists corresponding college majors for each job title. You will also find information about different types of publishers, commonly used terms, educational resources, publishing organizations, and more. (Association of American Publishers)
Business Ownership: Mind Your Own Biz - Do you want to be your own boss? Have you ever dreamed of owning your own company?' This site walks you through five easy steps of business ownership.' Use the horizontal menu bar to navigate. (U.S. Small Business Administration & Junior Achievement).
Chemistry: Stories from the Field AUDIO - Short, conversational audio interviews that recount scientific adventures & career insights, and celebrate the contributions of women working in chemistry and related sciences. (Chemical Heritage Foundation)
Construction and Related Trades - Information on 20 different occupations in construction and related occupations, including mason, carpenter, roofer, electrician, plumber, solar photovoltaic installer, and more. (From the Occupational Outlook Handbook)
Dentistry Careers - Information on careers & educational programs for Dentists, as well as related occupations such as Dental Assistants, Dental Hygienists, and Dental Laboratory Technicians. See also Dentistry 101 (American Dental Education Association).
Education: Why Teach? VIDEO - Different types of teachers explore reasons for choosing a teaching career; also provides information on financial aid, certification, and related topics (Teach.org, a public-private partnership led by Microsoft, State Farm and the U.S. Department of Education). See also How to Become a Teacher (Teacher.org; founded by Salpy Baharian, M.Ed), and Education, Training, and Library Occupations (Occupational Outlook Handbook).
Engineering: Discover E VIDEO - Discover engineering with career facts, activities, and more (National Engineers Week Foundation). See also eGFI: Dream Up the Future (American Society for Engineering Education), Engineer Girl (National Academy of Sciences), Try Engineering (IBM, IEEE, & TryScience), and Engineer Your Life (WGBH Educational Foundation and the National Academy of Engineering in partnership with the Extraordinary Women Engineers Coalition).
Environmental Careers - Describes a number of different careers in environmental conservation, including park ranger, wildlife biologist, and forester; middle school and up (Wisconsin Department of Natural Resources). Environmental Career Opportunities for Students provides information about internships with the U.S. Environmental Protection Agency. Under Other Student Opportunities (on the right-hand side of the page) you will find links to info about fellowships & scholarships, student contracting and more; for high school and up (U.S. Environmental Protection Agency).
Foreign Language: Careers in Translation and Interpreting AUDIO - Information on the career outlook for translators & interpreters, an overview of what it takes to do the job, and personal stories about the profession from translators & interpreters, (American Translators Association). See also Translation Industry Career Guide UPDATED LINK! (Lingo24 Translation Services; site includes advertisements)
Government Jobs - Explores options for working in the federal government, with pros & cons, information about internships & student jobs, and more. (Partnership for Public Service; nonprofit organization)
Graphic Design - This online career guide explains what graphic design is, who becomes a designer, how to choose a design school, and more. (American Institute of Graphic Arts)
Green Careers - Articles and data on careers in recycling, renewable energy, green construction, and more; high school and up (2010-2013, U.S. Bureau of Labor Statistics). See also SEED Center Green Career Resources ; use the lefthand menu to choose a topic (Sustainability Education and Economic Development (SEED) Center, American Association of Community Colleges and ecoAmerica).
Health Careers - Information on a wide variety of careers in health and medical science (American Dental Education Association, Federation of Associations of Schools of the Health Professions, et al.). See also Health Occupations (National Institutes of Health), Becoming a Physician (American Medical Association), Discover Nursing UPDATED LINK! (Johnson & Johnson Services, Inc.), and Dentistry Careers, above.
Know It All: Kids Work! INTERACTIVE - Learn about jobs in health care, theater and broadcasting in a colorful virtual community of workplaces; for middle school students. (ETV Commission)
Library Careers: How To Become a 21st Century Librarian - Do you love books? Love people? Love computers? A career in library service might be for you! Check out this article for more information (2013, Library Journal; site includes advertisments). See also Library Careers (American Library Association).
Mathematics Careers - Basic career overview, plus dozens of profiles on a wide variety of careers for which a background in the mathematical sciences is useful, including academia & teaching, actuarial science & accounting, business management, computing, engineering, law, investment analysis, military & public service, medicine & life sciences, physical sciences, and sales & marketing (Mathematical Association of America). See also Be an Actuary (Society of Actuaries and Casualty Actuarial Society), Accounting Careers, above.
Medical Careers - See Health Careers, above.
Meteorology - See Atmospheric Sciences, above.
Microbiology Careers AUDIO - An overview of what microbiologists do and how to become one, plus profiles and interviews with microbiologists. (American Society for Microbiology)
Military Careers VIDEO - Developed as a resource for parents, educators and young adults curious about military service, this website offers interviews with active-duty servicemembers, as well as information about career fields, training, benefits and more (U.S. Department of Defense). See also My Future: Military Service (U.S. Department of Defense) and What the Recruiter Never Told You (About.com, IAC/InterActiveCorp).
Non-Profit Careers - Information about working in the non-profit sector. High school and up. (Idealist.org)
Nursing - Health Careers, above.
OceanAGE Careers VIDEO - Video profiles, interviews, biographies, career timelines, and related materials and resources help you learn about a variety of careers which involve exploring our planet's oceans. Careers profiled include Deep-sea Biologist, Marine Ecologist, Geophysicist, Marine Archaeologist, Research Scientist, and Oceanographer. (National Oceanic and Atmospheric Administration)
OLogy UPDATED LINK! - 'OLogy means 'the study of.' On this website, you can meet the 'OLogists' who work in fields such as archaelogy, astronomy, biology, geology, paleontology, and many others; middle school and up (American Museum of Natural History). See also Learn About Careers in Science NEW! VIDEO (elementary school and up; Jim Metzner Productions, Inc. et al.), and Science and Technology: CurioCity Career Profiles and related links, below.
Paleontology: I Want to be a Paleontologist! - Overview of what paleontology is and how to prepare for a paleontology career (Paleontological Research Institution). See also Paleo FAQ & Paleo Profiles UPDATED LINK! (Society of Vertebrate Paleontology; non-profit organization).
Physics Careers - Profiles dozens of physicists who have taken a variety of career paths and educational paths, plus related resources. Use the lefthand menu to choose options (American Physical Society). See also Careers from Physics (Institute of Physics) and Careers Using Physics UPDATED LINK!(Society of Physics Students, American Institute of Physics).
Physiology Careers - Brief profiles of individuals in careers that use knowledge and skills from physiology, 'a broad science which aims to understand the mechanisms of living, from the molecular basis of cell function to the integrated behaviour of the whole body.'
Psychology Careers - 'This guide provides a look at psychology as a career in many different fields, such as research, consulting, diagnosing and teaching. It includes an outlook of the current job market and testimonials from psychologists on the career paths they have chosen.' See also Psychology Careers [Link opens a PDF], Non-Academic Careers in Psychology and Interesting Careers in Psychological Science. (American Psychological Association)
Public Service - See Government Jobs and Non-Profit Careers, above.
Science and Technology: CurioCity Career Profiles - 'Did you know there are literally hundreds of careers where science, technology, engineering & math education matters? We've chased down real-life professionals with jobs related to these subjects to question them on what makes up their job, why it suits them, and why it might suit YOU. Some of these jobs may be what you consider traditionally a science or techie role - but some may surprise you!' For grades 8-12 (Let's Talk Science; Canadian non-profit organization). For more resources, see Careers in Science (Science Buddies; non-profit organization), Profiles of Scientists and Engineers VIDEO (Science360 Knowledge Network, National Science Foundation), and OLogy, above.
Sports Careers - Dozens of short articles profiling people who work in a wide variety of sports-related jobs including management, marketing, public relations, broadcasting, and more (2013, Work In Sports L.L.C.). See also Careers for Women in Sports (2011, Women's Sports Foundation).
Teaching Careers - See Education, above.
Theatre Careers: American Theatre Wing VIDEO - Behind-the-Curtain videos, including interviews with Broadway's leading artists. See related videos on technical aspects of theater on the How It Works page, and the full archive of Career Guides, Working In The Theatre, and other videos on American Theatre Wing's YouTube page VIDEO , featuring actors, directors, playwrights, and other theatre professionals discussing their work. The Downstage Center audio podcast archive is still available on Podbay (American Theatre Wing). See also About Costume Design and The Scenic Designer (National Arts Centre, Canada).
Veterinary Medicine - Brochures on careers in veterinary medicine and veterinary technology (American Veterinary Medical Association). See also Ways to Help Animals as a Career (American Humane Association), Animal Careers UPDATED LINK! [Link opens a PDF] (ASPCA), Careers with Animals (PAWS.org), and Jobs at the Zoo (San Diego Zoo).