Library Director Sunnie Randolph Retires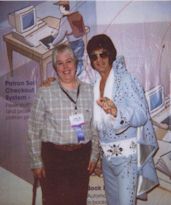 Longtime Library Director Sundra (Sunnie) Randolph retired at the end of March 2012 after 21 years of service to this community. Sunnie assumed the leadership of the South Plainfield Public Library in 1991, and during her tenure has guided the library through many difficulties, transitions and improvements.
Can you imagine our library without a Children's Librarian? Strange as it may seem, we never had one until Sunnie Randolph hired our first ever Children's Librarian! In addition, she established our first Friends of the Library group, as well as the first Library Foundation, to support and advance the library's mission.
The past 21 years have brought dramatic changes to the library world, and Sunnie has worked to keep our library up-to-date. She supervised our original automation project - which replaced paper cards in wooden drawers with a computerized library catalog - and since then has introduced many new technologies to the library, from Public Internet access and Wifi to free downloadable eBooks and audio books.
Sunnie managed two major renovations inside the library (Children's Room/Technical Services, and Main Room), and superintended several plans for new buildings. She also saw the library through the flood of August 2011 (Hurricane Irene) and subsequent months of cleanup and repair.
Asked to comment on Sunnie Randolph's contribution to the library, Board President Eric Aronowitz said:
"It has been my privilege to work with Sunnie for over 13 years, 12 of which I have served as President of the Board of Trustees. I have seen, first-hand, her dedication and professionalism. She led the South Plainfield Public Library into the 21st century through good times and not-so-good times. A Director with lesser skills and talents could not have accomplished what Sunnie has. Through it all, her sole goal was to make the South Plainfield Public Library the best it possibly could be for the residents of the Borough, a goal that she has reached. I wish only good things in her retirement, but I would be less than honest if I didn't say that she will be missed tremendously."