LMxAC and the Online Catalog
South Plainfield Public Library is a member of the Libraries of Middlesex Automation Consortium (LMxAC), a nonprofit organization which includes more than 30 LMxAC member libraries in Middlesex, Union, and Monmouth Counties. The LMxAC catalog allows you to request items directly from any LMxAC member library, pick them up in South Plainfield, and return them to any LMxAC library. You can use your South Plainfield library card at any LMxAC member library.
You can download a free mobile app that will let you check on your account, browse the library catalog and place holds from your phone. You can also pay fines with a credit card.
The LMxAC online catalog allows you to search for library materials in all LMxAC member libraries, place & view holds, see a list of your currently checked-out items & due dates, see & pay your current fines, save multiple lists of favorites, and more. To log in to your account, you will need to enter your library card barcode number, and PIN. You may use the online catalog at the library, or access it from your home computer or mobile app.
---
Using the Online Catalog
Learn about New Library Catalog Features!, 3/21/22
To start, from the menu on our South Plainfield Public Library home page, choose:

Your search results will include items in all the LMxAC member libraries. To see ONLY items owned by the South Plainfield Public Library, click on 'Items owned by South Plainfield' to the left of the results list:

Enter your library card barcode number and PIN in the login window that pops up. (You can also reset your pin in this window.)
For quick instructions on the basics of using the LMxAC catalog, see the 1-page printable Searching the Catalog [Link opens a PDF] tipsheet, or watch the YouTube videos on Basic Search Tips for the Online Catalog VIDEO.
LARGE PRINT BOOKS: You can browse the Large Print book collection in our online catalog. To find books in Large Print format by a specific author or title, or on a specific subject, search by author's name, title, or subject keyword; then when your results list comes up, go to the 'Formats and Editions' section in the left hand column of the page, click on 'Large Type' and 'Include'. Your results will include titles in all the LMxAC member libraries. You can then go to the 'Library' section on the left and click on 'Items owned by South Plainfield' in the left hand column of the page to limit your results to our own holdings.
VIDEOS, CDs, MEDIA: To find videos, CDs, and other audio/visual media, search the online catalog, using the Search Everything dropdown to choose movies, audiobooks, or music. When searching for a specific title, you should also select Title from the All Fields dropdown.
For more help and FAQ, see Library Catalog Help page. There are also additional videos on using the online catalog VIDEO, covering My Lists, Advanced Searching, and more.
For instructions on placing holds online, see: How to Place a Hold [Link opens a PDF], Catalog Help (under 'My Account FAQ'). and/or How to Place a Hold for Contactless Curbside Pick-Up VIDEO.
IMPORTANT: When using a public or shared computer to renew materials, be sure to log out of your account before leaving the computer.
---
Mobile App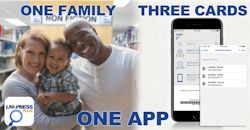 To search the catalog or access your account anytime using your smartphone or other device, download the LMxPRESS Plus Mobile app, available from the iTunes app store and Google Play!
Download the app from:
Click here for a short YouTube video on the LMxPRESS app VIDEO.
---
Pay Your Fines with a Credit Card
Pay your library fines and fees from the comfort of your home by using SmartPay! All you need is your library card number & PIN, and a credit card (VISA, MasterCard, or Discover).