Contactless Curbside Service @ the South Plainfield Public Library
Weekday curbside service will begin on July 1st. Saturday service will begin July 11th.
Pickup schedule will be Monday - Friday 10:15 AM - 6:00 PM, and Saturday 9:15 AM - 1:00 PM.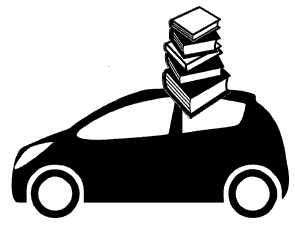 PLEASE NOTE: As of July 1, we expect to be able to fill most requests within 24 hours, but keep in mind that since this is a new service there may be some delays. Please be patient with us!
Once you know how to place holds, we suggest that you take a look at our book lists (for all ages). They cover a variety of genres and link directly to the catalog to make placing holds easy. They will be updated frequently, so be sure to check back often! If you can't find something you want from our booklists, we also offer customized recommendations if you don't have a specific title in mind.
Place your request. We encourage you to use our online catalog to make requests.

PLEASE NOTE: Delivery service between libraries has been suspended until further notice, so you may request only items owned by the South Plainfield Public Library.

Only patrons who have a South Plainfield library card will be able to request holds online. If you have a library card from another library but would like to request a hold for pickup & return at South Plainfield, please call us at (908) 754-7885 ext. 2 or email us at spcurbsidepickup@gmail.com (for adult materials) or spkidscurbsidepickup@gmail.com (for children's materials).

Please be sure to include your full name, address & telephone number when making requests via email!

Library staff will contact you either by phone or email when your materials are ready.

Please make sure the library has your correct phone number and/or email address on file!

Please do NOT pull up to the curb to collect your materials but instead park in one of the designated spots across from the library entrance; then call (908) 754-7885 ext. 2 to let us know you have arrived. We will ask for your last name and the last 4 digits of your telephone number.

Items may be picked up M-F 10:15 AM - 6 PM, or Sat. (beginning 7/11) 9:15 AM - 1 PM.

Someone on our staff will come out and place your bagged order on a table on the front porch for you to pick up. For your own safety and the safety of others, please remember to maintain a 6-foot minimum distance from library staff and other library patrons. Please wait for staff and/or other patrons to leave/go back inside the building before coming up to collect your bag.

PLEASE NOTE: Staff may not take returned materials from you. Please place all returns into the outdoor book drops.

Please be aware that all returned items will be put into 72 hour quarantine and will therefore remain on your account for several days after being returned.
---

Looking for something to read (or watch, or listen to), but unsure of what you are looking for? Let us choose something for you! Please fill out one of the short surveys linked below and we will pull a selection of materials tailored to your tastes. We understand that many of our patrons prefer to come in and browse the stacks to find just the right read, so we have developed these surveys to help us help you find something suitable!
If you are requesting materials for more than one person, please fill out a separate form for each person! (These forms are meant for requesting items only when you DO NOT have a specific title in mind).
Another option is to check our book lists for ideas. They cover all age groups and a variety of genres, and link directly to the catalog to make placing holds easy. They will be updated frequently, so be sure to check back often!